"To be able to give back and to meet some of the fans — it's a rewarding experience for us too," Edmonton Oilers' player Ryan Nugent-Hopkins said.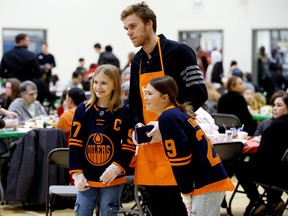 Watching Connor McDavid's on-ice game is one thing, but seeing him dodge serving trays and navigate a packed dining room to let fans score a little face time is something else.
Several Edmonton Oilers served dinner, signed autographs and greeted fans and their families at Ivor Dent School in northeast Edmonton on Thursday. The Edmonton Oilers Community Foundation organized the dinner in partnership with Hope Mission, a non-profit Christian social service agency operating in the city.
Edmonton Journal Headline News
Sign up to receive daily headline news from the Edmonton Journal, a division of Postmedia Network Inc.
By clicking on the sign up button you consent to receive the above newsletter from Postmedia Network Inc. You may unsubscribe any time by clicking on the unsubscribe link at the bottom of our emails or any newsletter. Postmedia Network Inc. | 365 Bloor Street East, Toronto, Ontario, M4W 3L4 | 416-383-2300
Volunteers at the door logged more than 360 people dining in the school gymnasium, many of whom received invitations as clients of the Tegler Youth Centre, a nearby Hope Mission facility on 118 Avenue and 38 Street that organizes activities for young people and their loved ones, programs manager Kent Neufeld told Postmedia.
"It's a chance for us to celebrate with our families," Neufeld said. "We try to make it as nice as possible to give them that special experience over the holidays."
The VIP treatment began with defenceman Cody Ceci and forward Leon Draisaitl meeting visitors at the door before handing them off to teammate Ryan Nugent-Hopkins, who ushered them to their seats. From there, the likes of McDavid, Darnell Nurse and Devin Shore brought the experience home by personally serving up supper.
By Nugent-Hopkins's estimate, more than half the team showed up, including Evan Bouchard, Warren Foegele, Dylan Holloway and Jesse Puljujarvi to name a few others.
Thursday marked the first time organizers have hosted the otherwise annual dinner since 2019.
"COVID halted a lot of these events," Nugent-Hopkins said in an interview. "To be able to give back and to meet some of the fans — it's a rewarding experience for us, too."
Likewise, Draisaitl said he was excited to be back after a two-year hiatus. His mood was positively electric as he welcomed new arrivals and mingled with fans lining up for greetings, signatures and photos.
"It's definitely busy today, which is great to see," he said while penning his name into a puck. "We don't have much going on, so being able to help out a little bit is amazing."
His signature, McDavid's and at least half a dozen others appeared on the back of 15-year-old Kasi Colpitts's hoody. She also managed to score about 20 player cards with signatures, but not necessarily for herself.
"I know someone who's really a fan of hockey and collects cards and equipment that's been signed," the teen said between dinner and dessert, "so I'm going to give some to him."
"And your older sister," her mother Gina Colpitts interjected.
The Colpitts, both hockey fans, moved to the neighbourhood in November, shortly before the teen started attending the youth centre about three days a week, where she meets friends, enjoys snacks and plays games, Gina Colpitts said.
"They don't have anything like this in our old neighbourhood," the mother said of the meet and greet. "So this is the first time we've experienced something like this, and it's really nice."